E-Bike Tour Japan – A Whole New Way To Explore
We at Bike Tour Japan are super excited to add the Yamaha Cross Core e-bikes to our fleet!
For those that already ride e-bikes you will find the Cross Core the perfect fit for long days in the saddle. For those that have never ridden an electric assist bike before these bikes add a whole new dimension to your e-bike tour and next cycling holiday.
Why Bike Tour on an E-Bike?
While e-bikes have been around for quite some time, the range and power of earlier models have been very limited. That said, in recent years newer battery and motor technologies have really taken electric bikes into a new direction.
Many think of e-bikes as a last option, but we actually think that e-bikes serve a much greater role. There are three big reasons we are excited to offer e-bike options to our guests for our tours.
The Best Experience for the Whole Group
Flattening the Hills and Mountains
A Little Extra Umph
The Best Experience for Everyone
We have all been on that ride before. Huffing and puffing your way up the climb, heart rate through the roof, and just trying to keep up. Meanwhile, your ride buddy next to you is rambling on about their latest wood carving project, seemingly unfazed by the 12% grade you are scaling.
This is where an e-bike comes in. When the going gets tough we all like to know we are pushing it. But getting dropped from the group is never fun. With a pedal assist bike you can simply click the assist up one level and take the edge off enough.
Your cycling holiday in Japan is exactly that, a holiday. We all love a good challenge, but we also want to take in the sights and have energy for the rest of the week.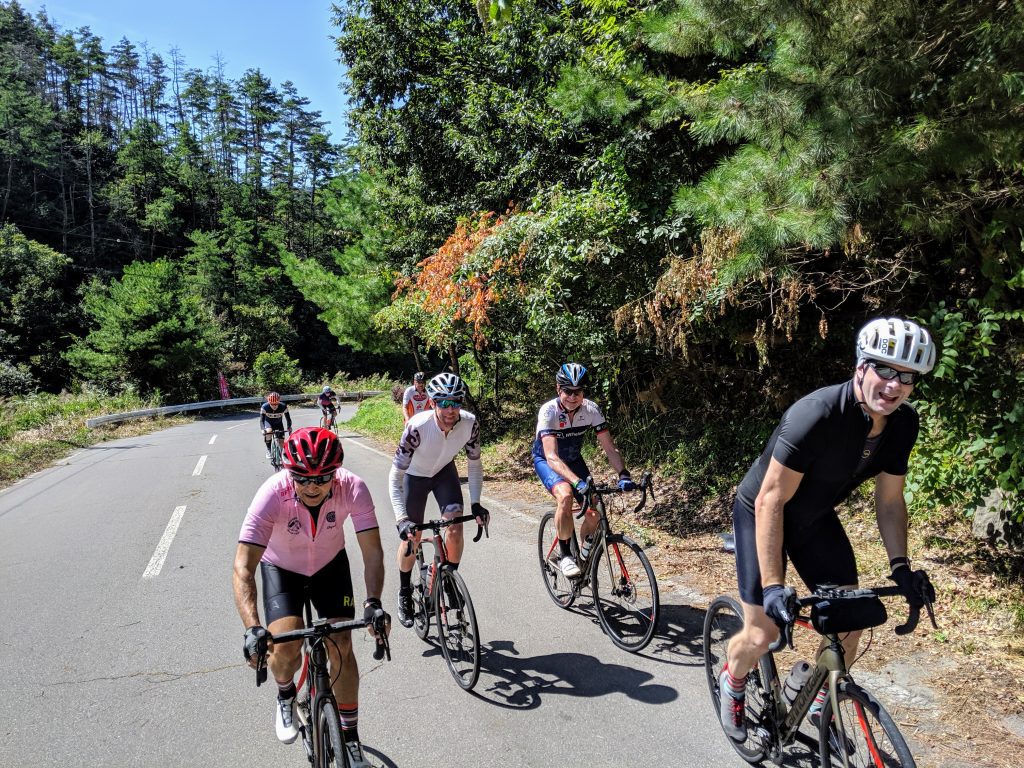 Flattening the Hills and Mountains
For riders that are unfamiliar with longer sustained climbs, longer days in the saddle, or that have a bit more weight to carry up the hills e-bikes are the perfect equalizer.
When riding the flats and downhills groups can easily find a happy pace to stay together. But any rider who has done group rides knows that the hills are where everything breaks up.
With a pedal assist e-bike riders that are less experiences can climb with greater ease and keep up with those that ride faster. This is a win win as you will have more energy to soak in the views, participate in other parts of the trip, and can adjust the assist to your liking.
A Little Extra Umph
We all have those moments where your body has found its limit. While we like to think we have built really well balanced tours that incorporate well timed rest days and lighter ride days, sometimes you just need to take it easy. With an e-bike that moment can come whenever you choose.
Need a break up the climb? Kick the assist up to full and spin easy for a few minutes to get your energy back.
Having a great conversation with another rider but finding yourself out of breath? Click up one assist level and take that edge off just a bit so you can keep the conversation flowing.
But isn't Using and E-Bike Cheating?
NO WAY!
The real beauty of an e-bike is the ability to modulate the assist via the multiple assist settings.
You don't have to use the assist all day. In fact, most of our guests that ride e-bikes are working just as hard as everyone else. Many will use the lowest settings on the flats, or even turn the assist off. Then when you reach a really steep hill just kick it up one notch and stay with the group.
An E-Bike Tour Story | Choosing an E-Bike For Your Trip
*Note: This example is based on a real guest but names and locations were changed for privacy.
This is Taka. Taka has been riding for a few years and really loves to ride around his home in Tokyo area where it is very flat. Taka wants to come on a week long tour with Bike Tour Japan. Taka scheduled a call with Rob and shared this information.
Taka regularly goes out for rides 2-3 times a week. He usually does one longer ride on Saturdays for about 4 hours and two shorter rides in the middle of the week for about 1-2 hours before work.

Taka usually rides at 25kph (~16mph) for his rides. He does occasional hills, but most hills around him are short at less than 1km long and pretty steep regularly over 10% average gradient.
Based on this, Rob recommended he join a Level 2 Tour such as the Shimanamikaido Setouchi Tour or Valleys & Volcanoes Tour.
Rob also mentioned that if Taka is interested in training up to a harder trip, wants more of a challenge, or wants to use an e-bike that the Level 3 Nikko North Alps Tour would also be a great fit.
This piqued Taka's interest as he likes a bit of challenge and has been making some great improvements in his cycling lately.
The distances each day sound within his range of around 50-70km (31-43mi) or so each day. That said, he is concerned that the elevation of over 1,000m (3,200ft) gain per day might be too much as he is not very fast up the hills.
Rob agreed, the elevation is currently well above Taka's level. But, with a good training plan or an e-bike this could be within Taka's level.
Taka really wants to push himself to do this trip as the idea of climbing up to the top of a volcano and into the caldera on his bike sounds like an amazing experience.
Taka decides that the best route for him is to use an e-bike to enjoy the trip as much as possible.
Later that fall Taka heads out to Nikko to start his trip in the North Alps. After meeting everyone he hops on the e-bike and finds that he doesn't even need the assist on the flat shakedown ride.
The following day as they hit the first climb in some of the local foothills Taka finds he is dropping behind the group. He remembers to kick it up a level on the assist, and just like that he is back in the group!
From there each day Taka would adjust the e-bike settings based on how he felt. It was great knowing that in a pinch he could use the pedal assist when needed. He even found himself not using it for long stretches of the trip, but was glad it was there when needed.
At the end of the trip Taka reflected back on riding the e-bike and decided he would look into getting one for when he gets back home.
"I never thought myself a climber, and often feared the mountain roads. But with an e-bike I feel I can bring them within my ability and can work on getting better at climbing!"

Taka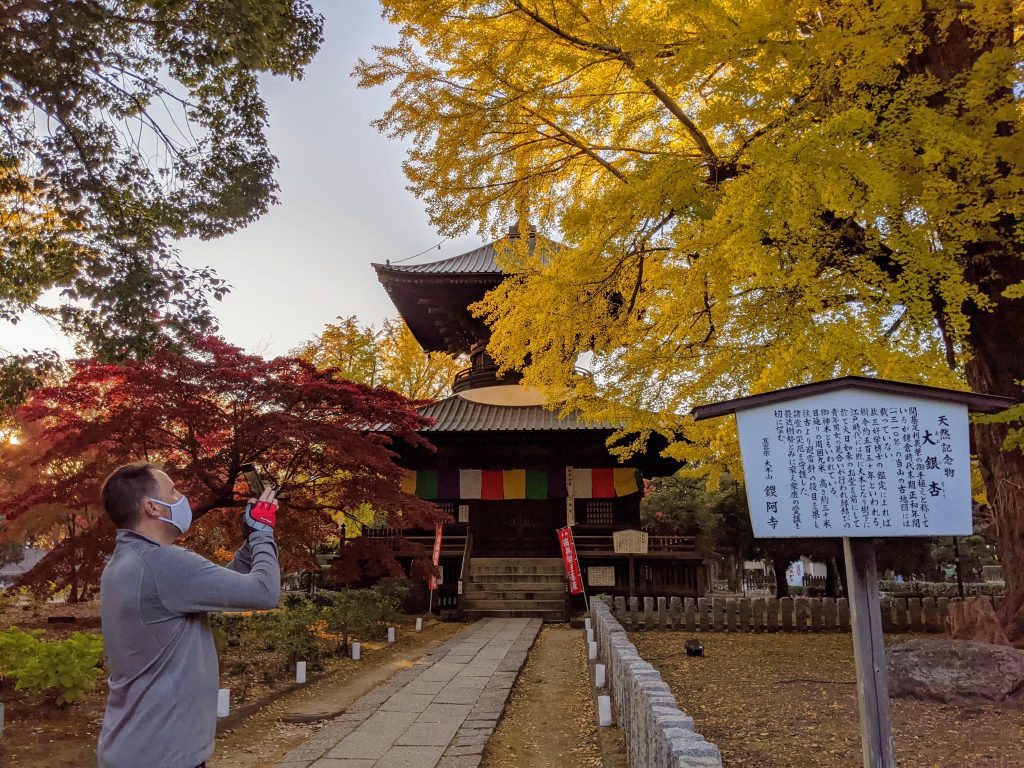 How E-Bike Tour Math Works Out?
Our pedal assist e-bikes are just that, they assist your pedaling. That means you are still doing the pedaling, the just add a little extra juice.
I like to tell guests that in the highest modes a pedal assist e-bike will take a mountain and turn it into a hill, a hill and turn it into a flat, and a flat into a leisurely spin.
For those looking for some actual numbers, below is an example. If you don't care for the math feel free to skip this section and just rest assured that it checks out 🙂
It's All About Power to Weight Ratio
For cycling, e-bikes really shine when you are going up hill. This is due to the physics of power needed to lift a weight and overcome gravitational forces.
Now this might sound like we are about to get into some crazy mathematical formulas, E = MC2 and the like. Fear not! For our purposes you really just need a simple ratio to determine (approx.) speed up a hill.
Your Power to Weight Ratio is simply how much power (measured in watts (abbreviated w) divided by your total weight in kilograms (this is the weight of you, your bike, your gear, etc)
Power in Watts / Total Weight in Kilograms = Power to Weight Ratio
So in short, the bigger your Power to Weight Ratio, the faster you will go up hill (measured in watts/kilo).
How to Find Your Power to Weight Ratio
Most people use a power meter, a fancy strain gauge often found in a special bike crankset or wheel hub. These give highly accurate numbers usually within 2% accuracy, but are quite expensive often over $500.
A simple way to get a good estimate of this without any extra gear is to take your bike out and ride up a local hill while recording your ride with the Strava App on your phone.
Once you finish the ride Strava will give you an estimated watts for the uphill segment you rode.
On this climb Strava estimated Rob's power to be 172w over the 9 minutes 22 seconds it took him to complete it.
Now that we have this number we can see what it would be like for Rob to ride up this hill with an e-bike.
The last number we need to have is Rob's weight + his bikes weight. Rob has been enjoying his sushi lately and so he is currently 80kg (176lbs) and his bike with all the fixings weighs 10kg (22lbs).
That means his power to weight ratio on the above climb was
172w/ (80kg+10kg) = 1.91watts/kg
E-Bike Power to Weight Ratio?
The Yamaha Cross Core that we use has 250 watts of assist on the highest setting and weighs 18kg (40lbs).
So if Rob rode up this hill with the Yamaha pedal assist on full he would have
[172w (Rob) + 250w (bike)] / [80kg (rob) + 18kg (bike)] = 4.3watts/kg
That's more than double the net power moving up the hill!
To translate this into what speed he will move, you need some fancier calculations. You can use a calculator like this site to solve, but in short Rob will move an estimated ~19kph vs the original ~10kph!
Our E-Bike Tours
All of our tours can be e-bike tours! We have had guest on all levels of tours ride e-bikes. From Level 2 guests looking for easy cruising, riders looking to ride one level above their fitness such as Taka's story above, or even a 70 year old guest completing our Level 5 trip with his mates!
The possibilities of bike touring holidays on e-bikes are endless and we are here to help make your next cycling trip to Japan an unforgettable one assist and all!

More Rides & Reads