Cycling the Noto Peninsula | Route – Sights – Pros & Cons
Cycling the Noto Peninsula
Previously an off the beaten path route, with the completion of the Hokuriku Shinkansen to Kanazawa City the Noto Peninsula has been given new life as a popular tourist hub in Japan.
Known for sleepy fishing villages dotting the shores of the Japan Sea and, on the rare clear days, sweeping views of the ocean & Japanese Alps in the distance, the Noto Peninsula has become something of a regular location for cyclists thanks to a popular article featured in the New York Times back in
looking to ride in Japan.
Compared to other popular routes such as the Shimanami Kaido or Tokyo's nearby Kasumigaura Bay, Noto offers a different side of Japan and a step back in time ripe for cycle touring.
Where is the Noto Peninsula?
The Noto-hantou 能登半島 as it is called in Japanese is found northwest of Tokyo all the way on the other side of the main island of Honshu beside the Sea of Japan. Directly north of Kanazawa City, it makes Kanazawa the typical launching point for most cyclists heading out to ride the peninsula.
What Type of Cyclist is the Noto Peninsula Best For?
Not all cyclists enjoy the same kind of day in the saddle. While some prefer pace-lining and racing up mountains, others may choose to pedal gently, take it easy, and stop often to see all of the sights. Both these cyclists exists and every flavor in-between. Because of this, not every area is best suited for every cyclist and their idea of a good cycling tour.
Below is a Pros & Cons list of the Noto Peninsula as it pertains to the different types of cyclists. Our goal is to help you assess if this is the right area for your next trip, so you can best spend your time riding on your next cycling holiday in Japan.
Pros
Accessible Riding
While the region offers a wide variety of terrain and options, in general this area is best suited for riders level 2-3 (read more about rider levels in our FAQ here). We typically rate the area for level 2 trips as the routes are mostly flat to rolling with few climbs that are longer or steeper.
You can also ride between towns in roughly 40-70km each day, making for easy accessibility to most all riders.
Ever Increasing Tourism & English Services/Hotels/Restaurants
Thanks to the relative boom in this route as a regular tourist route you will find no shortage of hotels, restaurants, and services catering to visitors. This means for those less confident in self-guided trips they can find accommodations & places to eat with relative ease compared to other rural areas.
Costal Scenes & Seafood
For those that love the ocean, this trip is basically nonstop ocean. This means great seafood, ocean air, and a fair amount of beaches. But do be warned, the beaches in Japan tend to be far less grand as say the ones in California. Much of the coastline is rugged rocks and cliffs off of steep hills.
Very Low Population Cities & Towns
This is a pro for some, and a big con for others. If you like stepping into sleepy towns that often seem to have time frozen in place, then there will be no shortage of them on this route. If you want to see more lively small towns and cities that are not just catering to tourists, this might not be a good route for you.
Cons
Lack of Climbing
For riders looking to tackle major climbs or set out on long days in the saddle the area has a few major climbs, but most are well below 500m gain and average closer to 150m or less.

Also, you are the type to ride in excess of 100 miles / 160km per day of flat to rolling terrain, you will breeze through the whole of the route in around 3-4 days.
I recommend checking out the Kita-Kanto Region, Nikko Region, and of course Nagano Prefecture for those looking for epic climbs.
Weather
The whole of the western side of Japan is generally blessed with the famous Japow powdery snow in the winter, but with that comes quite frequent rain & clouds the rest of the year.
For context, Kanazawa City averages over 193 days of rain each year, or more than 50% of all of the days in the year. While the winter months average over 20 days a month of rain/snow, the spring, summer, and fall months still average more than 1/3 days of rain. Comparing this to the Kita Kanto Region where the average rainy days is just 88 days/year, and more than half of which occur between June-mid September.
This is compounded by some of the lowest sunlight hours in all of Japan. In the northern most city on the Noto Peninsula of Wajima, the city averages just over 1,500 hours of sunlight each year and well in excess of 200+ days of rain/snow each year. This is over 50% less than areas such as Kita Kanto where we love to ride & cities typically average well over 2,300 hours of sunlight each year.
Large Amounts of Car & Tourist Traffic in High Seasons & Holidays
While sleepy during much of the year thanks to cold and wet weather from around October through end of March, Noto is very much a high season travel region. And, thanks to an ever-growing promotion of multi-day car trips, this means the roads are increasingly frequented by more and more auto-tourists.
If you are traveling on a Japanese National Holiday such as Golden Week or Obon, or during the peak seasons of April-end of September, it is likely that you will have much greater road traffic and crowding at the sights than other routes less famous for cars & motorcycle touring.
Confronting the Global Plastics & Waste Disposal Industries
Unfortunately, this region is also heavily influenced by the washing up of trash from not only Japan but neighboring Asian countries on the beaches. This is largely due to the currents of the Japanese sea. This means many beaches are difficult for locals to keep clear of trash and debris. This is not to diminish the area, but a fair warning to those that travel here that it's not uncommon to see washed up trash strewn across many (if not most) of the beaches you will ride by.
When to Cycle The Noto Peninsula & Weather in the Noto Peninsula
In short, the months of Mid April-June & September are the best months to cycle in Noto.
Most other months are very very wet & cold, or are very hot, wet, and humid. To be fair, it is rarely not wet in Noto, even in the best months of the year. Bring your rain gear.
Feel free to skip the next section as I tend to nerd out about weather patterns a lot and how they impact a cycling tour. If you are a fair-weathered cyclists, this region is tough. If you don't mind getting a little to a lot wet, this region is not bad.
A More Detailed Explanation on Weather & When to Cycle the Noto Peninsula
The reason that the Noto Peninsula has just a few short windows of good cycling weather is because the cold & wet season of "wintery months" (mid October-end March) are cold to freezing, very cloudy, and extremely rainy/snowy.
Then, around the start of April the rain & clouds continue, but temperatures rise and become more mild. From here a window of roughly two months of mild temperatures and the least rainfall averages opens (1/3 days on average compared to over 2/3 days in the winter & summer months.
Remember, it rains/snows over 200 days a year in most of this region.
Unfortunately, like most of the main island of Honshu in Japan, Noto also becomes extremely muggy in the months of June, July, and August with temperatures well in excess of 30° highs and 21° lows and 90%+ humidity. This is shown in one of my favorite charts below the "Humidity Comfort Levels" of the City of Nanao on the east side of the Noto Peninsula being "muggy to oppressive to miserable" humidity for most of mid June through September.
We like to escape this mugginess that plagues most all of Japan's main island from mid-June to mid-September by heading deep into the high mountain towns of Gunma to places such as Kusatsu Onsen Town, Mount Akagi, Ikaho Onsen Town, or up into the even higher mountains of Nagano.
Anyways, back to Noto, when September rolls around the second good window opens from roughly the start of September to the end of the month or even sometimes mid-October. This window is also in sync with the typhoon season.
Now, I love riding in the typhoon season (see my article on cycling in typhoon season in Japan). This time of year is a constant alternation of torrential downpours for typically 1-2 day, and then multiple day stints of some of the best, clear, dry-ish weather all year. Noto is no exception to this pattern, so expect to have your weather largely determined by the current storms movements.
Our most recent trip to Noto was in late April of 2021 and were blessed with just one day of torrential rain (our first day of the tour) and two overcast days out of 8 total days. The locals at Wajima and Suzu kept saying how incredibly rare this is to have blue skies for multiple days on end. And the historical weather averages certainly back this up.
Conclusions on Weather in Noto
So based on this data, I would aim for roughly April/May (maybe early June) or September (maybe early October) for those looking to plan a trip. While it does seems that you get on average more sunny days in Augusts, the humidity and heat are at peak making for really tough riding.
Looking for Sun & Mild Weather?
Consider riding on the east side of Honshu in the Kita Kanto Region where dry air, minimal rainfall, and sunshine are a regular feature all year! (except summer from mid-June to end of August)
See the Kita Kanto Region for more rides in this area.
Recommended Course ~ Osusume Course
So you have decided to set out on a journey around the Noto Peninsula by bike, awesome! While there are certainly ways to make trips longer and shorter, add more or less stops, and explore any region in Japan for months if you would like, this guide has two recommend routes that should fit most riders goals.
The first is the "complete route" and the second an "abbreviated route".
Noto Peninsula Complete Route | Kanazawa -> Himi
360km | mostly flat with a few small climbs
While there are many ways to tie together the riding of the Noto Peninsula, our preference is to work in a clockwise manor. This is so that you ride along the seaside (left side of the road in Japan) the whole way!
Here is our osusume or recommend route. In short, it leaves from Kanazawa City, traces the peninsula clockwise, and ends in the town of Himi. From Himi you can take the train (1h15) back to Kanazawa City or connect back to Toyama City.
Strava Route of Noto Peninsula Course
Noto Peninsula Shorter Route | Kanazawa -> Wakura Onsen
240km | mostly flat with a few small climbs
If you have more limited time or want to just ride the best parts, consider riding the better 1/2 of the route and starting in Hakui City and ending in Wakura Onsen, and skip the far side of Notojima Island. This would decrease the route by about 130km.
Strava Route of Noto Peninsula Course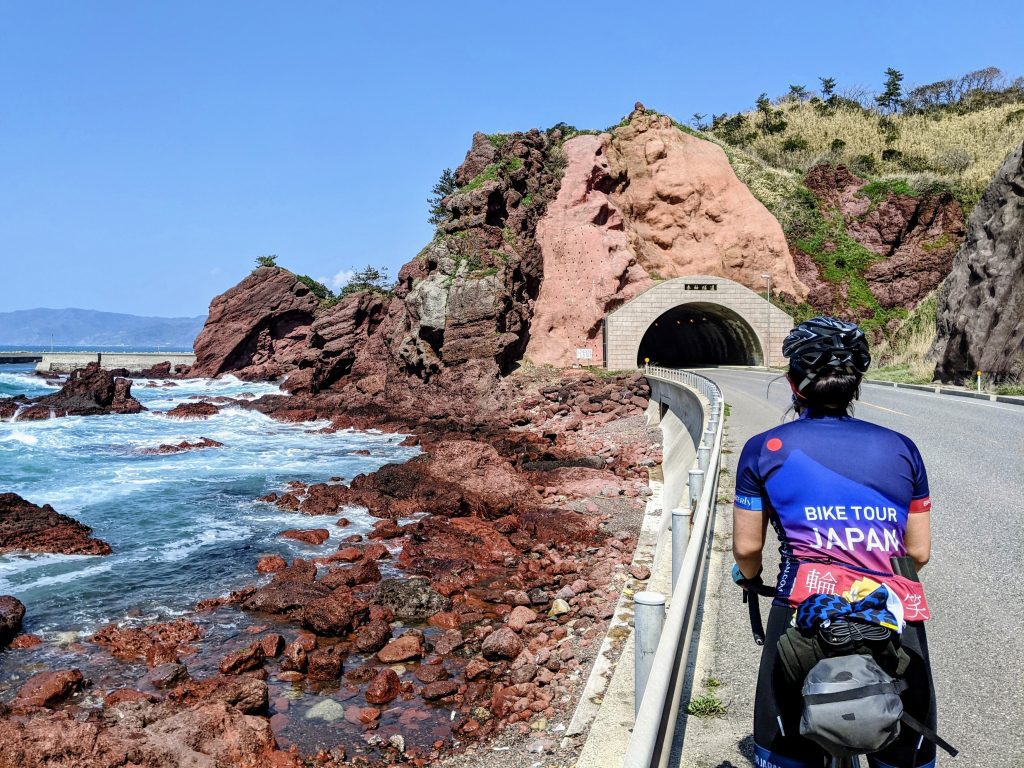 Cities, Towns, and Sights to See in Noto
One big upside to cycling the Noto Peninsula is the ability to see some iconic sights along the way. Below is a list in order along the route of Cities, Towns, and Sights to See in Noto as well as a link to their location.
The area is very well marked in English thanks to the recent booms in tourism, so most of these sights will have big signs pointing you towards them.
Going Guided Around The Noto Peninsula
For those looking for a custom made guided tour we offer bespoke tours around the Noto Peninsula, please see our itinerary here for more details and to contact us about your groups trip.
More Japan Ride Inspiration & Locations
More Rides & Reads