Sapporo is one of the biggest and snowiest cities in Japan, and with so much to see, finding the right food and activities is difficult. This guide gives you everything you need for a fun and exciting two days in Sapporo.
Getting Around Sapporo
Bike Rental: Sapporo's cooler climate and grid layout make cycling in the streets a dream. The main avenues have dedicated bike lanes and plentiful side streets to explore. Sapporo has its own bike-sharing service, Porocle, available during the spring, summer, and fall. Learn more here, or inquire with your hotel when you check in.
Train/Tram: Sapporo has a three subway lines and one streetcar line, making the city easy to navigate on public transit. The subway takes IC cards or cash, and you can also purchase day passes if you will use the trains often.
How to use this guide
Below, you'll find our recommendations of popular sites for any guest visiting Sapporo, though we've put in our own hidden gems too. For each set of activities, read the descriptions, and select 3-5 activities per day that sound especially interesting to you. Even though it's only two days in Sapporo, make sure you take your time with each place, rather than rushing through. In our experience, slow and steady really does win the race.
Now, let's get into it!
Day One
Breakfast
Location: 4 Chome-3-1 Kita 6 Jonishi, Kita Ward, Sapporo, Hokkaido 060-0806
Miyakoshiya Coffee is a Hokkaido-only chain of casual coffee shops and a great place to get an early breakfast. Coffee is roasted in-store daily and served alongside toast, topped with butter or cheese. These coffee shops are all across Sapporo, but the Sapporo Station store opens at 7 am, perfect if you want an early start.
Location: JR Sapporo Station, 3 chome, Kita 6 Jonishi, Kita Ward, Sapporo, Hokkaido, 060-0806
If you would prefer to get something Japanese, Arinko Onigiri is centrally located and serves the best rice balls in Sapporo. You choose your filling and watch them make it right in front of you. Cheese katsuo filling is the most popular option, so be sure to try it! The Sapporo Station store opens at 7:30 am, and takeout is available if you want to hit the road as soon as possible.
A five minute walk from the west end of Odori Park, you will find the Hokkaido University Botanical Gardens. The Botanic Garden preserves the natural landscape of Sapporo, highlighting the indigenous plants and animals. However, the greenhouse, open year round, shows plants from all over the world. The The Northern People's Museum, near the main entrance, has artifacts and exhibits about the Ainu, the first inhabitants of Hokkaido.
Odori Park runs through the center of Sapporo, dividing the city north and south and spaning 12 city blocks. Fall brings an explosion of color from all the different trees, and in early February the Sapporo Snow Festival fills Odori Park with ice sculptures and food stands. Sapporo TV Tower stands on the eastern end, offering a panoramic view of the city. You will pass through Odori Park a lot during your two days in Sapporo, but make sure you go up the tower at least once!
A five minute walk from Sapporo TV Tower, you will find Nijo Market, one of the oldest seafood markets in Sapporo. Here you can find the freshest seafood, from crab to sea urchins, and it's always in small portions. Nijo Market is at its best when you eat and walk. This way you can try all sorts of regional specialties, like sea urchin and horsehair crab, without sitting down at a restaurant.
Lunch
Location: 2 Chome Minami 3 Johigashi, Chuo Ward, Sapporo, Hokkaido 060-0053
Oiso Seafood serves thirty different seafood bowls served over white or vinegared sushi rice. Sanshoku-don (three color bowl) is the most popular and filled with sea urchin, salmon roe, and king crab! Other seafood items include live scallops out of the shell and Sakhalin clam sashimi.
Location: Ozawa Building, 1F, 1 Chome -2-2, Minami 1 Jonishi, Chuo Ward, Sapporo, Hokkaido 060-0061
Soup curry is a hearty and popular Sapporo staple, and Kanako's Soup Curry is on of the best in town. With seasonal vegetables, the menu is always changing, so you have a different meal every time. Served with or without chicken, you can also choose the spice level of your curry. Only 30 dishes are served each day, so make sure to stop for an early lunch!
After lunch, make your way to Sapporo Station to catch the JR Train to The Historical Village of Hokkaido. The village is in Higashi Sapporo but straight out of the early 1900s. Hokkaido's frontier past is recreated in the shops and buildings to show you what it was like a hundred years ago. Depending on the season, you can ride around the village in horse-drawn trolleys or sleds.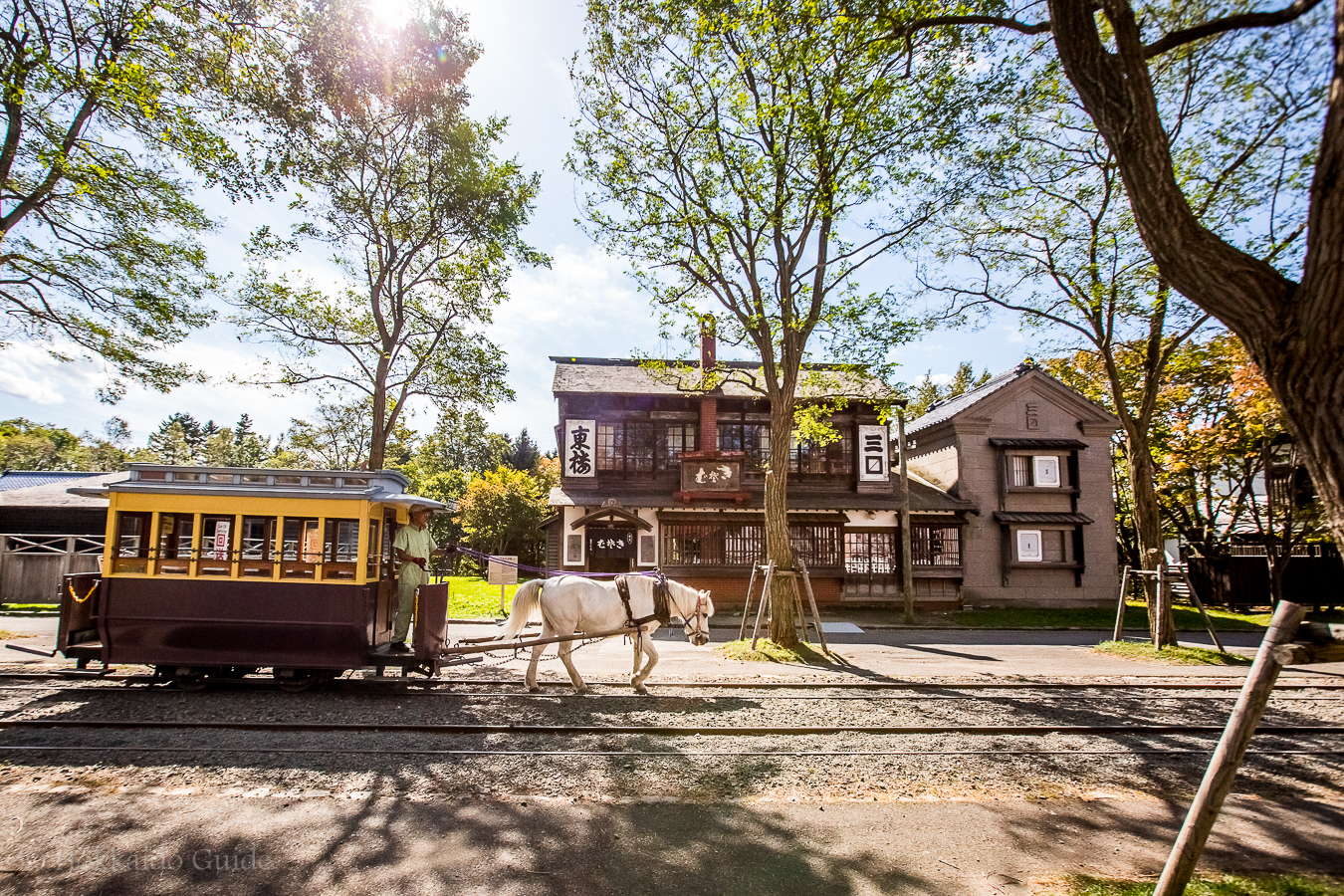 The Sapporo Beer Museum has a unique place in Sapporo history. Built 130 years ago, this former factory now houses a museum dedicated to Sapporo Beer. Tours are free with premium options available, and all information is provided in English and Japanese. Along the wall you can find over 100 years' worth of Sapporo advertising, a great way to see how the brand has changed over the years. And when you're done, grab a sample of different Sapporo Beers from the tasting room.
Dinner
Location: Japan Life Building, B1F, 4 Chome – 1-1, Kita 3 Jonishi, Chuo Ward, Sapporo, Hokkaido 060-0003
Jingisukan (grilled lamb) is a dish unique to Sapporo, and Matsuo has been serving it since 1956. The marinade's recipe has not changed, and the meat is savory and addictive. You grill the meat yourself at the table on a special hotplate, so this is a unique experience. If you only spend two days in Sapporo, this classic dish is a must eat!
Location: Susukino Sushi Building, 1F, Minami 5 Jonishi< Chuo Ward< Sapporo Hokkaido 064-0805
While wine and yakitori (chicken skewers) is an unexpected combination, this restaurant pairs and serves them with gusto. The head chef has worked in many different yakitori restaurants, and he uses what he learned to create new and creative dishes for his customers. With over 30 wines available and a rotation of different yakitori (chicken skewers) in a casual atmosphere, you are sure to enjoy Yakitori & Wine Balsamic.
Day Two
Breakfast
Location: Red Brick Terrace, B1F, 4 Chome -1, Kita 2 Jonishi, Chuo Ward, Sapporo, Hokkaido 060-0002
Cafe Yoshimi serves quick and hearty breakfasts. Here you can get toast with soup, salad, eggs, and a coffee, or maybe a breakfast curry if you prefer something more robust. The store opens at 8:30 am, so you can get here bright and early for a quick breakfast before your second day in the city.
Location: NKC Building, 1F, 2 Chome, Minami 1 Johigashi, Chuo Ward, Sapporo, Hokkaido, 060-0051
FAbULOUS is one of the most artsy cafes in Sapporo. The strong coffee pairs well with the early 20th century aesthetic and small art gallery, but make sure you get some food too! Egg salad and vegetable sandwiches are offered, so you can have a refreshing meal to start your day. And if you are keen to do some shopping, you can find a boutique clothing shop in the back half of the cafe!
Shiroikoibito is a small cream cookie and the #1 Sapporo souvenir. At Shiroikoibito Park, you can tour the facility and see the cookies be made from start to finish. Different level tours are offered, such as a chocolate tasting class and a session with a chocolate chef. And the first floor has a robust offering of sweets and souvenirs for you to bring home or eat on your trip. Bring back something tasty from your two days in Sapporo!
Hokkaido Jingu is the most important shrine on the whole island. Consecrated in 1869 by Emperor Meiji himself, this shrine is dedicated to the worship of Hokkaido's "pioneering kami." The temple is surrounded by a lush park that makes you forget you are in a major city. As you walk the main path to Hokkaido Jingu, you pass by food stands of takoyaki and baby castella before arriving at the temple. But don't walk down the center! That path is only for the kami.
Maruyama Park surrounds Hokkaido Jingu, and its quiet trails are a nice follow-up to the temple. Evergreen and seasonal trees fill the park, and the wide open fields are prefect for relaxing in the shade. The Maruyama Zoo is on the far side of the zoo, and includes many indigenous animals like the Hokkaido brown bear. Stop here to experience Hokkaido's nature during your two days in Sapporo.
Lunch
Location: 23 Chome-2-1 Minami 2 Jonishi, Chuo Ward, Sapporo, Hokkaido 064-0802
If you are vegetarian/vegan, then Itadakizen is the right place for you. As a wholly vegan restaurant, the entire menu is plant-based with a seasonal menu to make use of Hokkaido's ample produce. Lunch is served in different sets, and if you want to splurge you can get a vegetable sushi set.
Location: Fujiei Building, 1F, 24 Chome -1-17, Minami 5 Jonishi, Chuo Ward, Sapporo Hokkaido, 064-0805
Ramen and curry are typical Sapporo dishes, and Toranoko Ramen brings them together in one delicious dish. Tora-no-Ichi is the specialty dish, made from soup curry and tonkotsu (pork bone) broth. You can also get Tora-no-Ni if you crave a spicier ramen. Shio (salt) and shoyu (soy sauce) are also available.
South of Maruyama Park you will find Mt. Moiwa, one of the most picturesque places in Sapporo. On a clear day, you can see south to Mt. Take and north to the Ishikari Plain and Sea of Japan, and the nighttime view is one of the greatest in Japan. You can ride the ropeway up the mountain and take in the scenery as you go. But if you'd rather stretch your legs you can also hike one of the five trails up the mountain. No matter how you come up here, the view will be a highlight of your two days in Sapporo.
As you come down from Mt. Moiwa, hop on the Sapporo Streetcar for a 15 minute ride to Nakajima Park. A minute's walk from the Toyohira River, Nakajima Park is known for its historical buildings, sculptures, and huge variety of plant life. Visit the Hokkaido Literature Museum or the Hosei Kan to learn about the history of Hokkaido. If you are interested in the paths, then the sculptures scattered around Shobu Pond are perfect for you.
Like many Japanese cities, Sapporo has a large shotengai (covered market street). Tanukikoji has been in Sapporo since the frontier period, and some of the shops are over 150 years old. It is a great place to find souvenirs for your trip, and there are many hole-in-the-wall shops to explore. While you are here, make sure to visit the Tanuki Shrine, dedicated to Mizukake Tanuki Jizo, the market's kami. Rub it's belly to receive many blessings on your journeys!
Dinner
$ Ramen Alley
Location: 3 Chome Minami 5 Jonishi, Chuo Ward, Sapporo, Hokkaido 064-0805
While humble, Ramen Alley is an iconic Sapporo location, serving hot noodles for 70+ years. You can find every tpe of ramen here, from tonkotsu to shio. Anthony Bourdain and other famous figures have visited this place, so signatures and pictures fill the walls of every shop. Before anything else, Ramen Alley is a place to bumb elbows with all kinds of people over a hot meal. And a perfect place to end two days in Sapporo.
Location: 4 Chome-7 Minami 4 Jonishi, Chuo Ward, Sapporo, Hokkaido 064-0804
On the opposite end of the spectrum, Sukino Sushizen is one of Sapporo's oldest and well respected sushi restaurants. The owner is dedicated to his craft, and only uses local ingredients and seafood in his dishes. Make no mistake, you get the best when you dine at Sushizen. As such, make sure you book your table well before your two days in Sapporo!
More Rides & Reads